Landes beaches are a great place for swimming and other activities but please be aware of local specificities to avoid accidents.
The beach warning flags
No flag: the beach is not monitored. According to local by-laws, swimming is either prohibited or permitted at the swimmers' own risk.
All swimming information is posted at the entrance to the beach and/or the at lifeguards' station.
At the lifeguards' station
The mast indicating the colour of the beach warning flags is located near the lifeguards' station.

Swimming prohibited

Swimming dangerous but monitored

Swimming monitored, no particular danger
On the beach

Swimming area monitored when the lifeguards' station is open

Water sports area

Pollution

Regulated area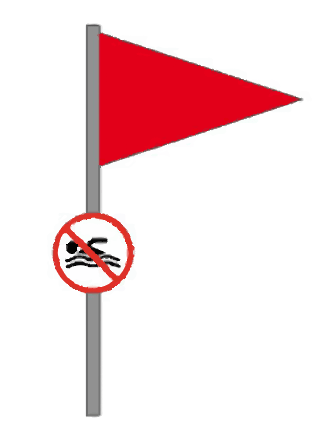 Signs indicating specific dangers are topped with a little red flame
Swimming monitoring provided by the lifeguards
It is best to swim in the area monitored by the lifeguards between the coloured flags (two horizontal strips in red and yellow).
Watch out for friends and family, especially children, while in the water, so you can alert the lifeguards immediately in the event of danger.
The lifeguards' stations are generally open from June to September (see the pages for each beach to find out the exact times and dates).