Of course, the Landes immediately conjures up beach holidays. But you would be wrong to think it stops there!
In fact, France's second largest department has many facets: a deep-rooted culture, a wide variety of food and drink, unexpected scenery and, most important of all, generous people characterised by their values of solidarity, courage, sharing and simplicity. A region rich in opportunity!
The Landes and all it has to offer
Idyllic beaches and lakes
Of course, when you think of the Landes you think of wide sandy beaches, the surf, and dunes as far as the eye can see. But the Landes doesn't stop there. Not everyone knows that the Landes also has many lakes – a delight for young children and those who prefer a calmer, more tranquil environment. All the lakes in the Landes are different: fresh water or sea water; emerald blue, turquoise, pale green; shallow or deep.
Dive into the Landes' lakes
Activities for everyone
There's no time to get bored in the Landes!
Water-based activities are very popular: surfing, canoeing, kayaking, water parks, boat trips, fishing, paddleboarding, kiteboarding, Hawaiian dugout canoeing, etc.
But there is also: golf, horse riding, treetop adventure courses, children's treasure hunts with Terra Aventura, Pala or Basque pelota, etc.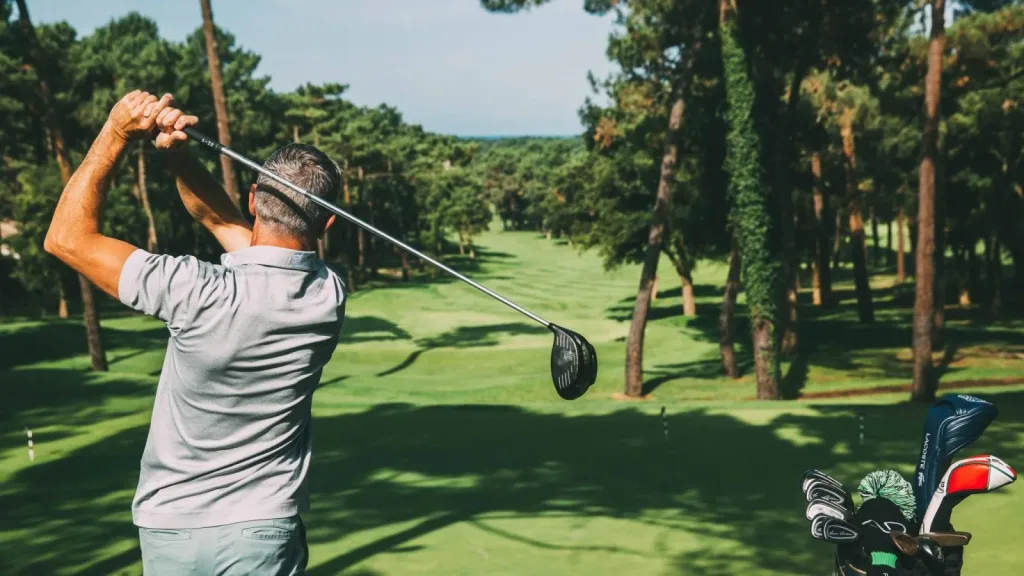 Forests and vast natural spaces to recharge your batteries
See that big green triangle on the map? It is quite simply the largest artificial forest in Western Europe. The renowned Landes de Gascogne forest covers almost a million hectares (2.5 million acres). Its ubiquitous pine trees are known for their many health benefits, especially for respiratory tract complaints.
There are also five nature reserves in the Landes, each as magnificent as the next. Take your time to explore them and be as discreet as possible so as not to disturb the local flora and fauna.
Immerse yourself in nature
An invitation to slow down
With over 2,300 km of marked cycle paths (including 600 km of safe, protected paths) and 3,500 km of marked paths for hiking, mountain biking or horse riding, the Landes sees slow mobility as a way of life. Along the seafront, deep in the forest, along lakeshores, beside rivers, or over the hills of Chalosse: the choice is yours!
You are never far away from a path through nature, well away from the crowds and the action.
When it comes to cycling, the Landes has two Eurovelo routes: Vélodyssée®, France's longest cycling route which runs all along the Atlantic coast, and Scandiberique®, the Pilgrims Route which passes through Mont-de-Marsan and Dax, and along the Adour for several kilometres, taking you right off the beaten track.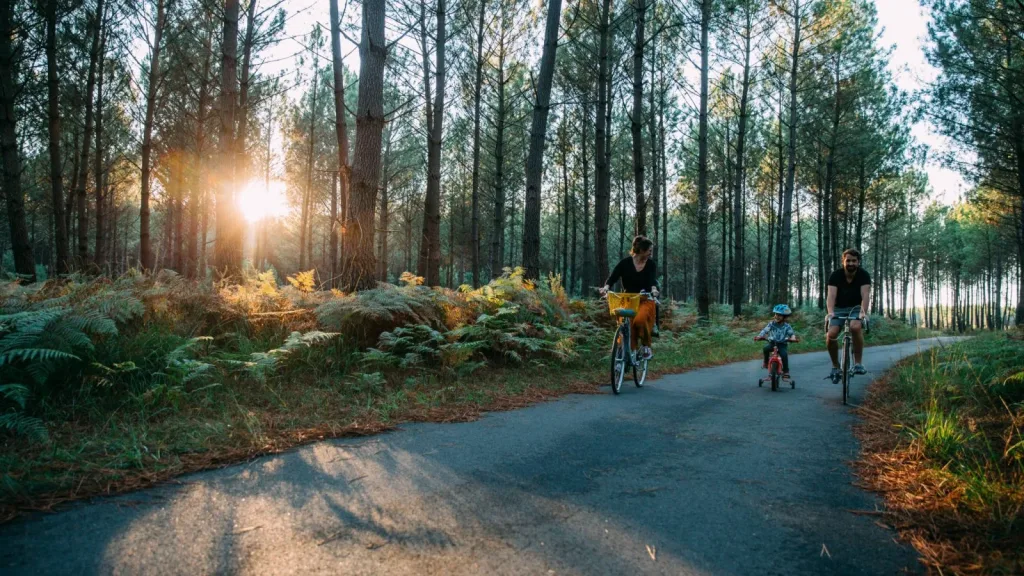 Useful tip: our interactive map will help you plan your hike or cycle route.
A wide variety of food and drink
Everybody knows that in the Landes "we eat well"! It is a fact that the people of the Landes have been food lovers for centuries. The land's generosity spills over on to the plate with dishes like foie gras, duck breast and confit, asparagus, Chalosse-reared beef, a hearty soup called garbure, poultry, kiwi fruit, and much more. Not to mention desserts like pastis and tourtière and drinks: Armagnac, Floc de Gascogne, Tursan wine, etc. It's worth a detour to taste them all!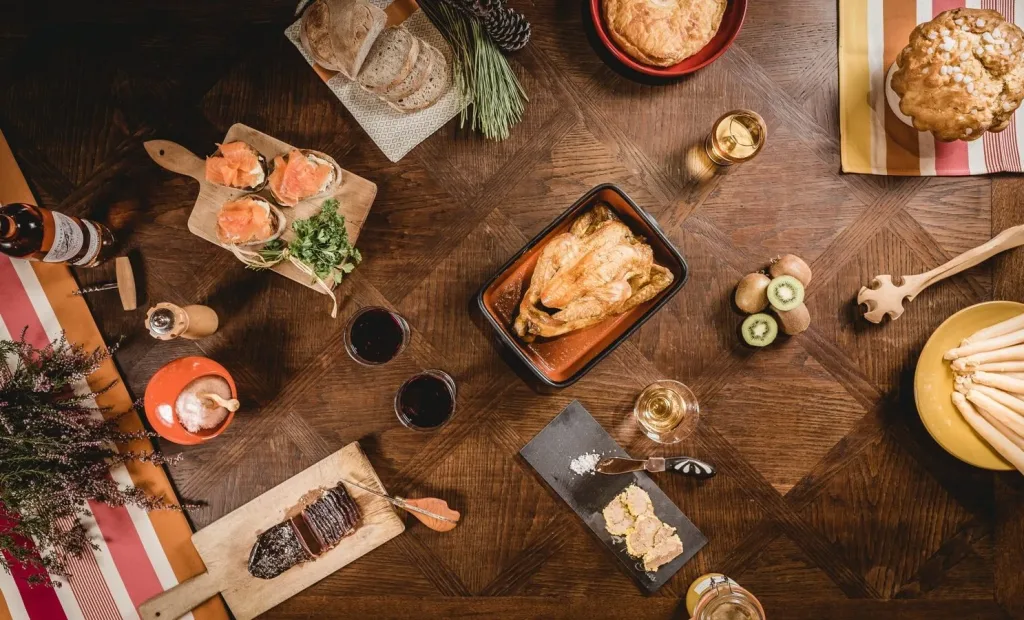 Taste the Landes' food and drink
The "Réseau Gourmand" network for food lovers
As they are generally off the beaten track, it can be difficult to know where to find the best of the Landes when it comes to food and drink. Today, the "Réseau Gourmand" network of restaurant owners, producers, artisans, shopkeepers, and hospitality providers offers the assurance of quality products and services.
A region full of character
Culture
The Landes has its own strong culture and has also been coloured with influences from southwest France more generally. As you head inland, you will hear the sound of street festivals and village fetes, big raucous meals, get-togethers, fanfares, May's mayade fete, the course landaise bullfight, sport as a local passion… all attended by friendly, welcoming locals. 
Heritage
The Landes has a lot of stories to tell and many places still carry the marks of bygone eras – from prehistoric times to the Middle Ages, and the Art Deco of the 1930s. Here is an opportunity to discover another side to the Landes.
Sites worth seeing:
An iconic site is Marquèze Ecomuseum: the perfect example of a Landes de Gascogne airial with its lovingly preserved 19th-century setting and way of life. A great place to recharge your batteries!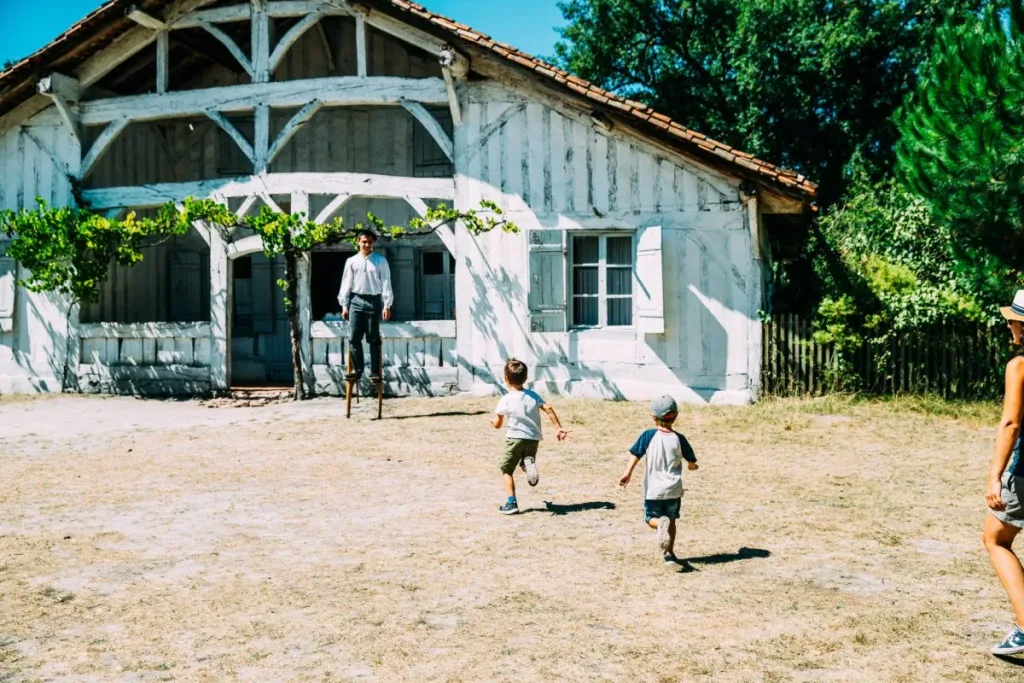 Along with other iconic places like:
Saint-Jean de Sorde Abbey in Sorde-l'Abbaye, a key historic monument dating back to the 11th century.
Arthous Abbey, which houses the Landes Heritage Centre and hosts events and exhibitions in the majestic old church.
Despiau-Wlérick museum in Mont-de-Marsan, a figurative sculpture museum with a collection of remarkable works housed in a magnificent 15th-century keep overlooking the town.
Saint-Sever, a key heritage site with its 11th-century abbey, its convent of the Jacobins, and its medieval streets.
Chalosse museum in Montfort-en-Chalosse, a 19th-century farming estate characteristic of the region with its wine cellar, bread oven, animals, etc.
Borda museum in Dax, which presents temporary exhibitions throughout the year on a variety of historical, scientific and artistic themes, with enthralling guided tours.
The PréhistoSite in Brassempouy, which specialises in the Upper Paleolithic period.
Armagnac Ecomuseum in Labastide-d'Armagnac to uncover all the secrets of the oldest eau de vie.
Peyrehorade salmon centre to discover the surprising lifecycle of wild salmon in the River Adour and local fishing traditions.
The hydroplane museum in Biscarrosse, which recounts the history of hydroplanes from the first flight in 1910 until today.
Skills and expertise
The Landes is a source of inspiration for many artists and artisans. Take the time to go and meet some of them and discover their unique world. Find gifts to take home and objects that will have a special place in your heart.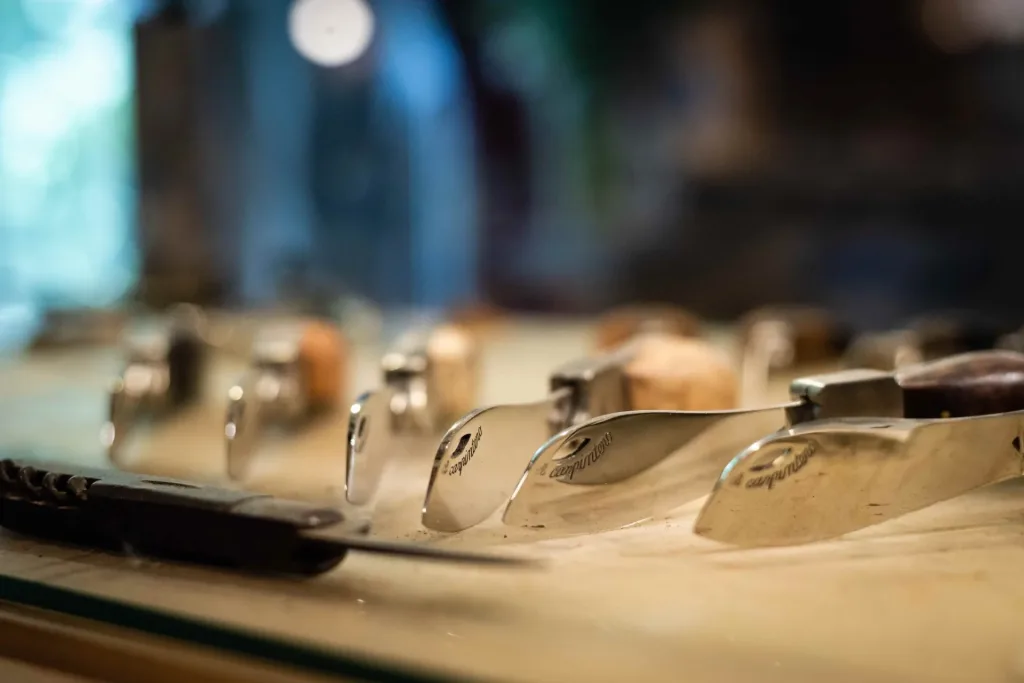 Discover the world of art and crafts
Natural therapy
The benefits of the Landes' water and land have been widely recognised since Roman times. Historians believe that is why the town of Dax was founded here, as revealed by its Roman name "Aquae Tarbellicae" meaning water of the Tarbelli tribe.
Today, there are four spa resorts in the Landes: Grand Dax (Dax and Saint-Paul-lès-Dax), Eugénie-les-Bains, Préchacq-les-Bains and Saubusse. They are all known for the quality and efficacy of their treatments.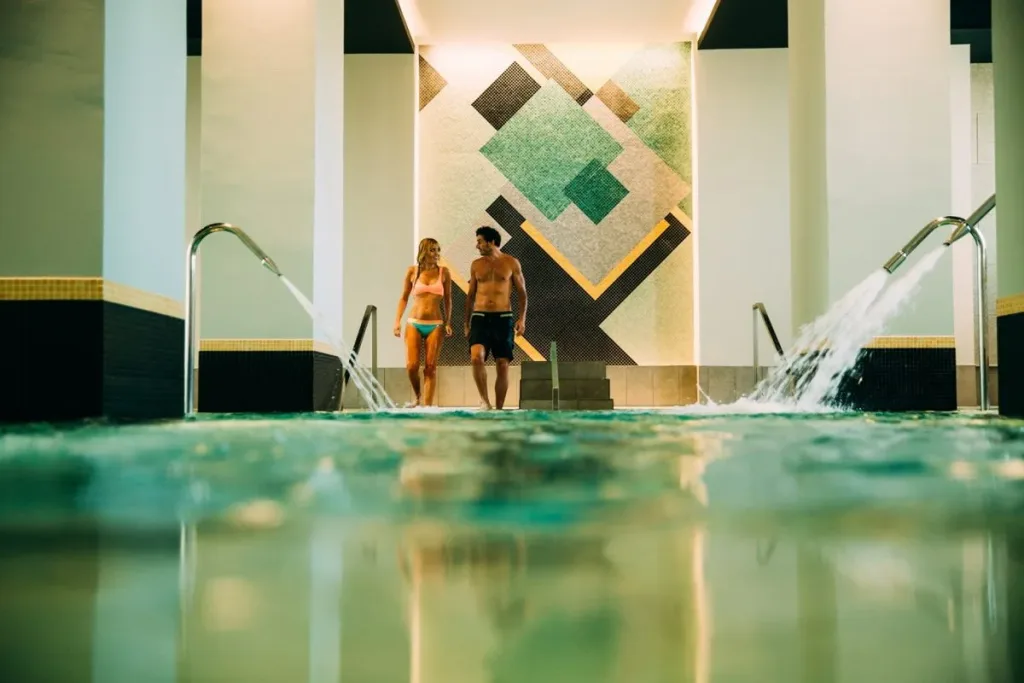 Good to know: mini treatment breaks are also available!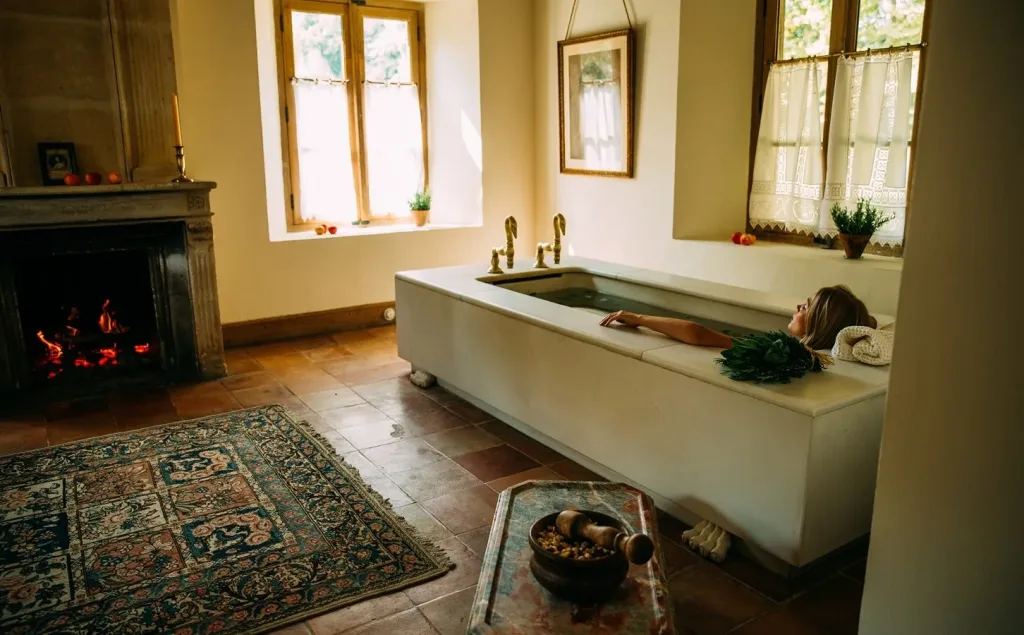 Activities and events all year round
Don't miss out on any of the special events taking place in the Landes:
Vibrate to the rhythm of the highlights